Happy Tuesday everyone! I am so excited. This is my first time to be chosen luckily through Random.org to be the guest host for this awesome blog hop. What is so awesome about this blog hop is it doesn't have rules. So come and join the fun and meet new friends!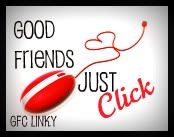 Let's be friends, link, click, and connect! No rules!
Now just follow as many as you can on the link below and become friends- because you know, blog friends are some of the best friends you can have in life -just ask us!
Leaving comments is a plus on your way to new friendships. Stumbles, Tweets, and FB Likes are a great way to show love too!
Thanks for stopping by and hope to see you around soon-(like every Tuesday!)
A Mom's Take, Queen B, Dealicious Mom, Mom to Bed by 8 and Guest Host Girl Talk